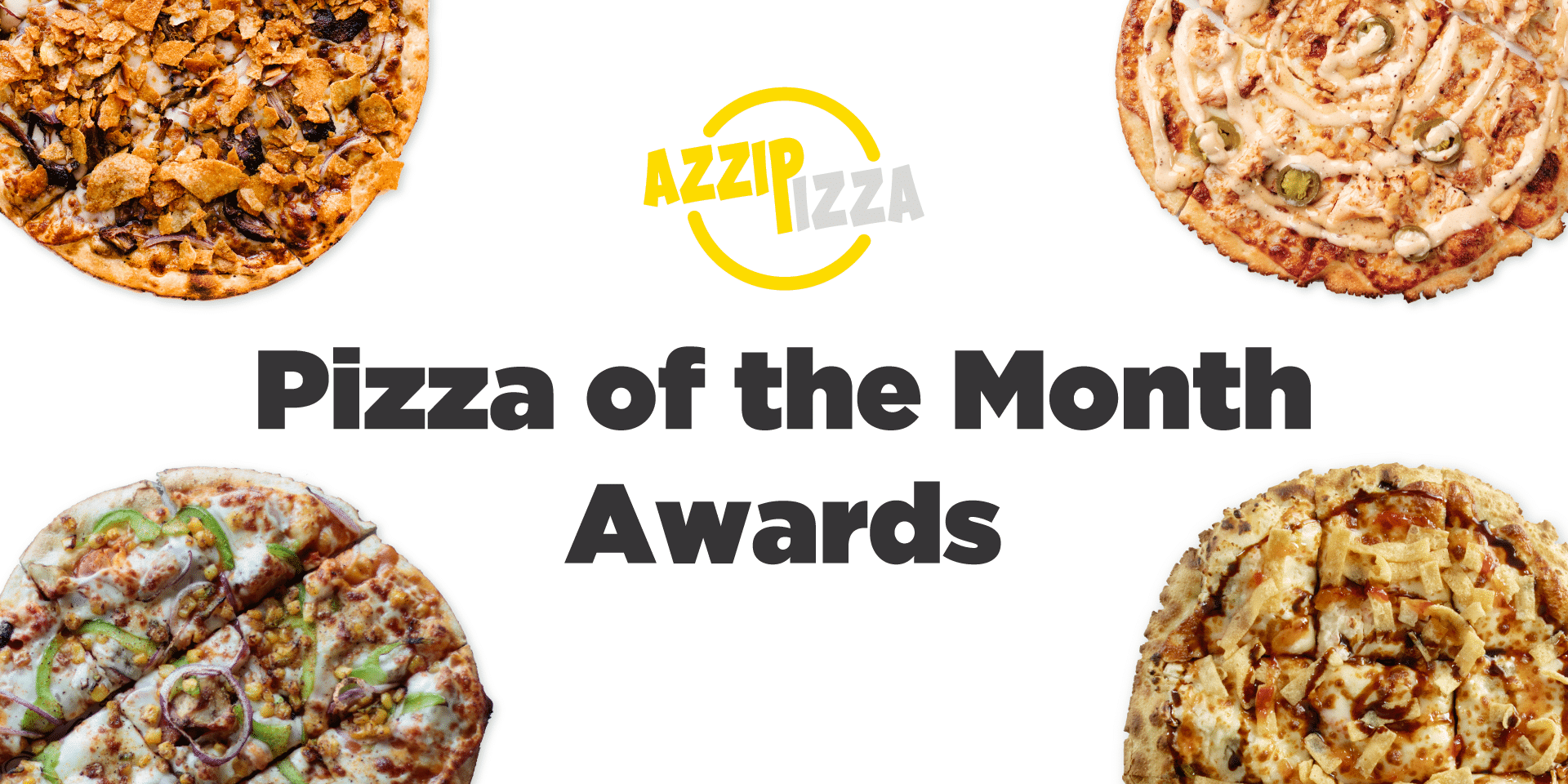 Pizza of the Month Awards
With any business, you have to find ways to set yourself apart from your peers. From the beginning, Azzip was built to be a different customer service experience from other pizza restaurants. Besides just the customer experience, Azzip wanted to feature the creativity of Chef Blake Kollker. The Pizza of the Month (herein known as the POTM) program is Blake's avenue to bring on specialty ingredients to create unique pizzas that our customers have grown to love. (Editor's note: Andy is in plain text and Blake is in italics.)
If we didn't have the POTM my job would be really boring and only require paperwork which would be a bummer.
While I personally have virtually no hand in creating these delicious pizzas, I do help our team stay informed about the success of the program each month as we consider which pizzas will make a return visit or get bumped from our starting lineup. We measure the success of the POTM based on the percentage of pizzas sold that month in which customers choose the POTM. Our typical hurdle to bring back a POTM is 5%. As one of the most popular questions we get from customers (and employees) surround the POTM, I created some awards to share some stats related to our POTM program.
Having Andy be the numbers guy is awesome! Having him be the creative behind the pizzas could be a serious problem. Andy eats to live, but he does not live to eat. I have seen few people take down a meal quicker or with more efficiency than he does.

The Trailblazer POTM – WESTSIDER (aka E'VIL PIG)
The Westsider kicked off the Pizza of the Month program and was so popular at the original Azzip location it never left the menu. The Westsider, or E'Vil Pig outside of Evansville, now introduces Ski and Grippos to customers across Indiana and Kentucky. The Westsider is still 5.5% of all pizzas sold across all Azzip locations (with it even more successful in our Evansville and Owensboro markets). For those outside of Evansville, the Westsider is so named because of the West side of Evansville's strong love for Grippos BBQ chips and Ski soda.
This pizza was inspired by a dish I created with Andy Wiggers when I was a chef at the ECC called the Southern Indiana Campfire. The Southern Indiana Campfire was a dish with Grippos crusted pork tenderloin, toasted marshmallow fluff, sweet potatoes, green beans, and a Ski gastrique. The coolest part was the dish was covered with a lid that we had put hickory smoke in. When the server sat the plate down in front of you and pulled off the lid you got that whiff of smoke.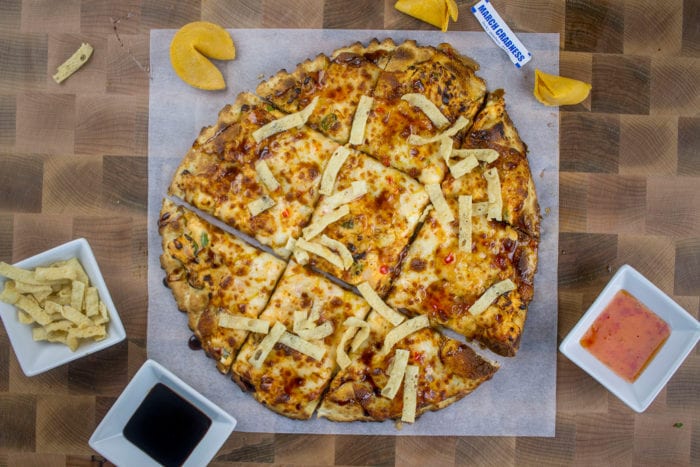 Most Popular POTM – MARCH CRABNESS
In March of 2019, 19% of all pizzas were March Crabnesses. That is a LOT of cream cheese and crab. This pizza has such a loyal following since its introduction in 2017, we created an entire launch event to kick off the month of March to its rapid fans. We get questions all-year round about when the March Crabness is coming back. In case you were wondering, it's MARCH.
Why not have it available all year if it's that popular? Well, we produce all the mix ourselves and it's a pretty intensive process and we want to make sure that the product is as fresh as it can be for the entire month. Also, if it's available all year it becomes commonplace and you lose the anticipation factor. We want it to feel like Thanksgiving or Christmas.
Most Adventurous POTM Store – EVANSVILLE WEST
The original Azzip location has built up a level of trust and faith within the customer base in our POTM's as 9.4% of all pizzas sold in 2018 were a part of the POTM (it's up to 13.6% so far in 2019). This includes 24.3% during the March Crabness craziness. Very rarely does another store have a higher POTM percentage.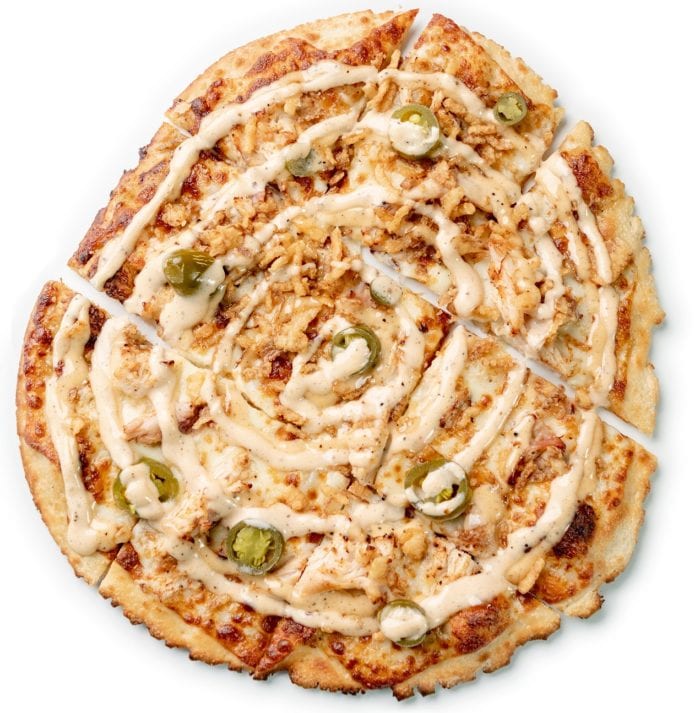 2019 Breakout Star POTM – WHITE LIGHTNING
The White Lightning got a bit of a revamp in 2019 with the inclusion of smoked chicken instead of our pesto-marinaded roasted chicken while the jalapenos were moved to an after-bake topping. You must have loved it as the White Lightning climbed from 5.8% to 9.4%.
Our intent is to bring back 8 of our best creations each year while introducing 4 new creations. Our newest creation, a jalapeno popper inspired creation named the Jalapeño Face, was inspired by an idea from a loyal customer, Mark Mayfield. We love the feedback and ideas from customers, and it was great to be able to fully develop one of them.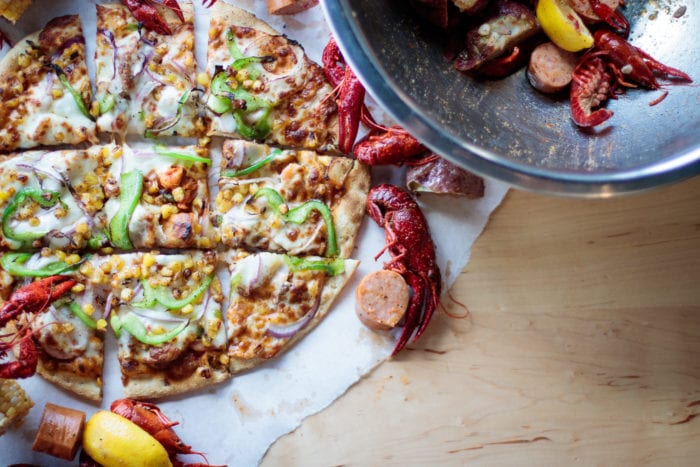 Most Misunderstood POTM – RAGIN' CAJUN
This is Blake's favorite POTM, but unfortunately was also one our worst performers. Definitely taught us that just because we like something, doesn't mean you will. I think Blake still wears a chip on his shoulder from this one. I'd compare it to a teacher's favorite student flunking the big test. It was a major disappointment.
Guys this was a seriously good pizza! I know some people can be a bit scared by crawfish but it was honestly one of the best tasting and best value pizzas we have ever put out! Accounting was on my butt for how expensive the crawfish were!
We appreciate your faith and loyalty in our POTM program, as I am sure you have your own personal favorite. We have started a recent pizzas of the month archive on our "About" page if you want to go back and reminisce about your old favorite while you anxiously await its return. If you want to make sure it does return, just follow the Mac Daddy's biggest fan's (Marge) lead and come get your favorite POTM 16 TIMES during the month to make sure its percentage clears our hurdle and your favorite will make a return visit next year!