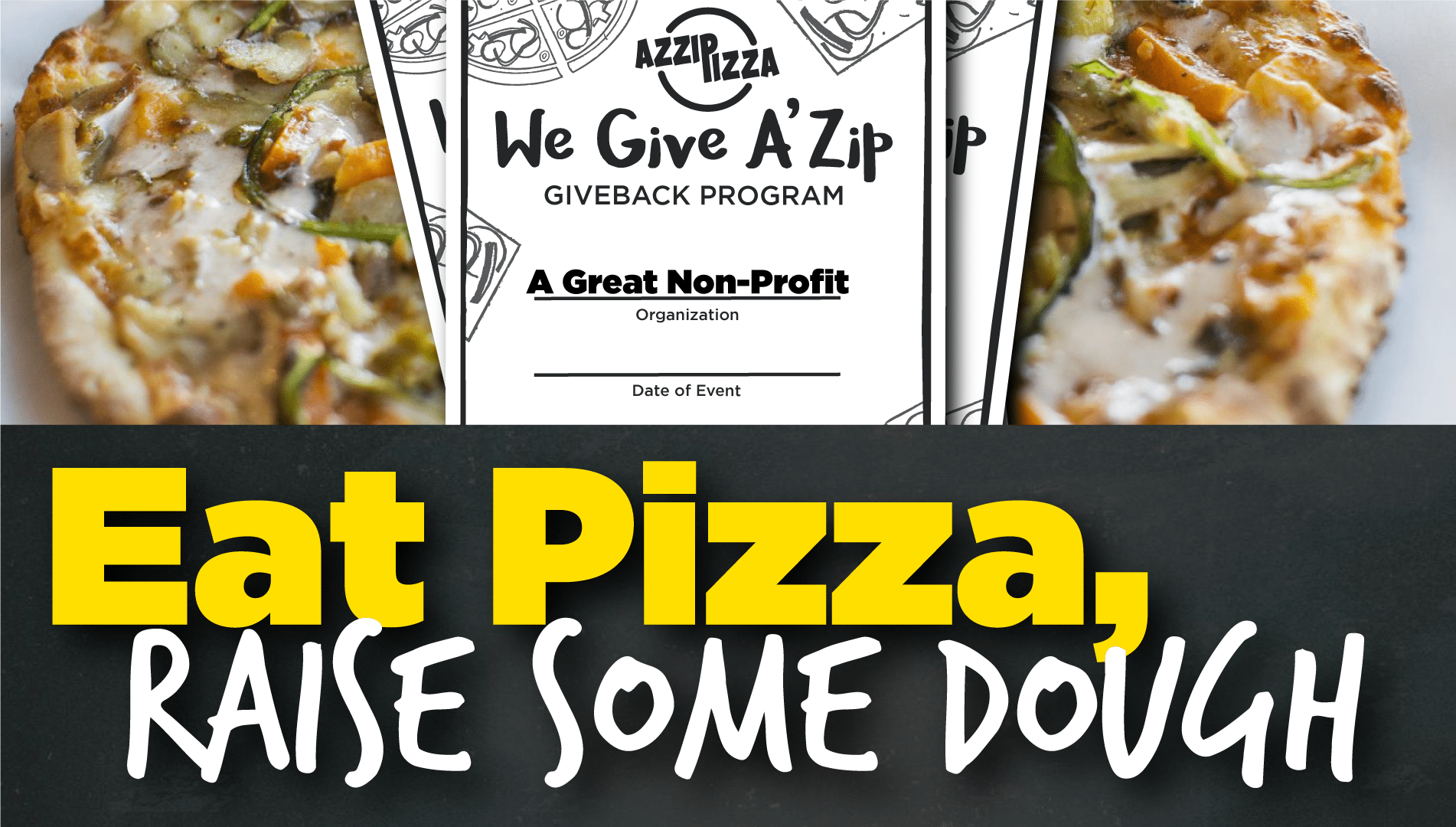 We Give A'Zip Blog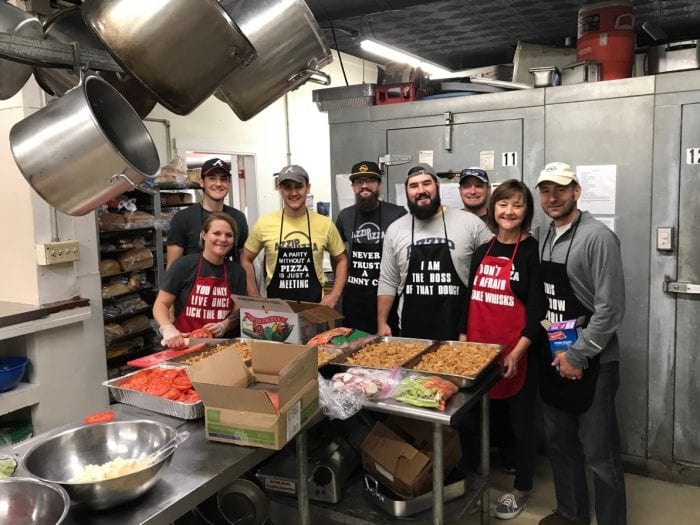 Part of our mission from very early on at Azzip is being a part of the community. We really want to be in the middle of what's happening. Whether that be by donating to reading programs at the Public Libraries or spending our time making hot, fresh, delicious meals at the United Caring Shelter. We believe that to be a good, valued member of the community, we can't just sell pizza. We have to give back. We have to contribute in ways that are tangible and make a difference. The nonprofits in our community are making that tangible difference every day. That's why we've been so eager to partner with these nonprofits through the We Give A'Zip Giveback Program.
Every Monday, Tuesday, and Wednesday, we partner with different community organizations to provide fundraising support for their cause. 20% of all the sales of their supporters go back that organization on their day. We have been so fortunate to be able to contribute to some amazing organizations. We have been testing an additional process to help organizations expand their reach for their fundraising efforts, and we are now able to open this up to everyone!
Your organization will now have the option of pre-selling gift cards as a stand-alone fundraiser or in addition to your giveback day in the store. How this works is you can send a pre-sell sheet home with your supporters. They will be able to pre-sell Azzip gift cards to their family and friends. After tallying how many gift cards were sold, your organization gets 20% of those sales. This has been a great option for organizations that have a lot of members or those who have just a few. It is the easiest way for your members or students to get the support of their family and friends.
To give this post a little more meat, here are some awards I have made up to give to specific givebacks over these first 4 years of the program.
Most Vouchers Redeemed – Terre Town Elementary and St. John the Baptist in Newburgh – Elementary schools in our communities have had great success with our giveback program. Many will actually send a voucher home with each of their students as a way for each family to have a physical copy they can use. Luckily, most of these students are more reliable than I was in elementary school at delivering things sent home to my parents!
Gift Card Pre-Sell Leaders –
Resurrection Athletics – Resurrection athletic department has used the Azzip Gift Card Pre-sell several times as a fundraising event. Their giveback total has been over $1,000!
Mater Dei Winter Color Guard – Sold over $4,000 worth of gift cards during a gift card giveback just this January. Way to support your own MD!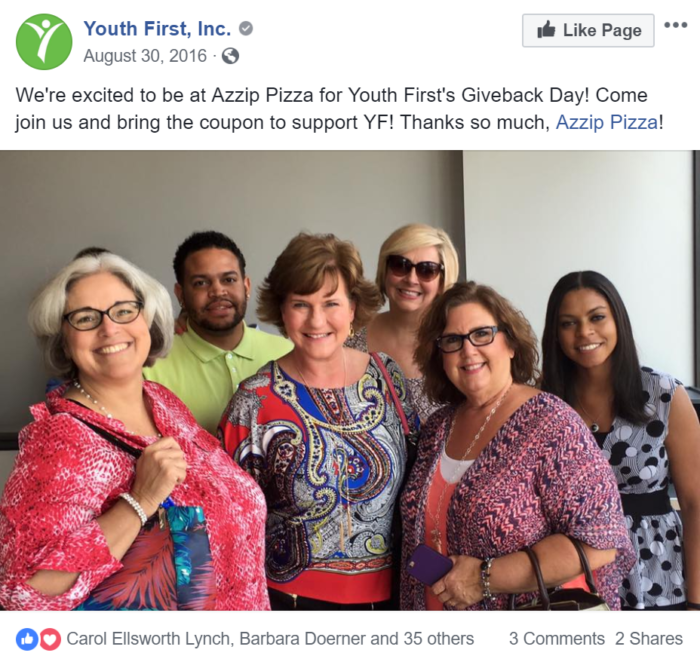 Best Promotion – Youth First – Youth First has an amazing marketing team and we were fortunate to get a glimpse into their process as they promoted the Giveback Day at Azzip. They were able to secure a donated Live Remote from Hot 96 and showed their social media savvy doing a Facebook Live video with Brad, the owner of Azzip :).
Most Personally Touching – Remembering Ryan – Suicide Awareness Benefit – Ryan was a friend and classmate of mine at Mater Dei. He passed away in 2016 from suicide and it left a gigantic hole in the Westside community. His mother and family and friends have a benefit for suicide awareness every year and we have been fortunate enough to have a giveback in his honor coincide with it. It has a huge turnout every year and I feel so lucky to be able to support his memory in this way. Remembering Ryan raised $800 through the giveback day!
Rowdiest – USI Dance Marathon – Hundreds of USI students and faculty descend on Azzip every year to support the USI Dance Marathon. Our staff loves the youthful vibe in the store during these givebacks. Good job USI!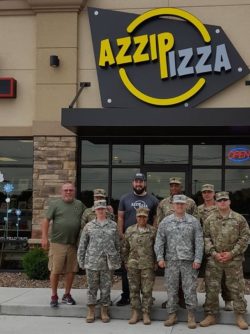 Biggest Supporters – Azzip Team Members – Okay, so I may be a tad biased on this one, buuuut these wouldn't be able to happen without them. Our teams in the stores do such an amazing job of allowing us to host these givebacks. As you can imagine, some of these nights can be a bit hectic for our teams. We appreciate all they do to allow us to give back in the community like we are able to. Thank you all!
To date, Azzip has given back over $130,000 to local nonprofit organizations to help support all the good that is going on in our community. We have enjoyed every minute of it. If you are an amazing organization here in our community, we would love to partner with you and help you reach your goals. Sign up for a giveback at azzippizza.com/we-give-azip and let us help you raise some dough!