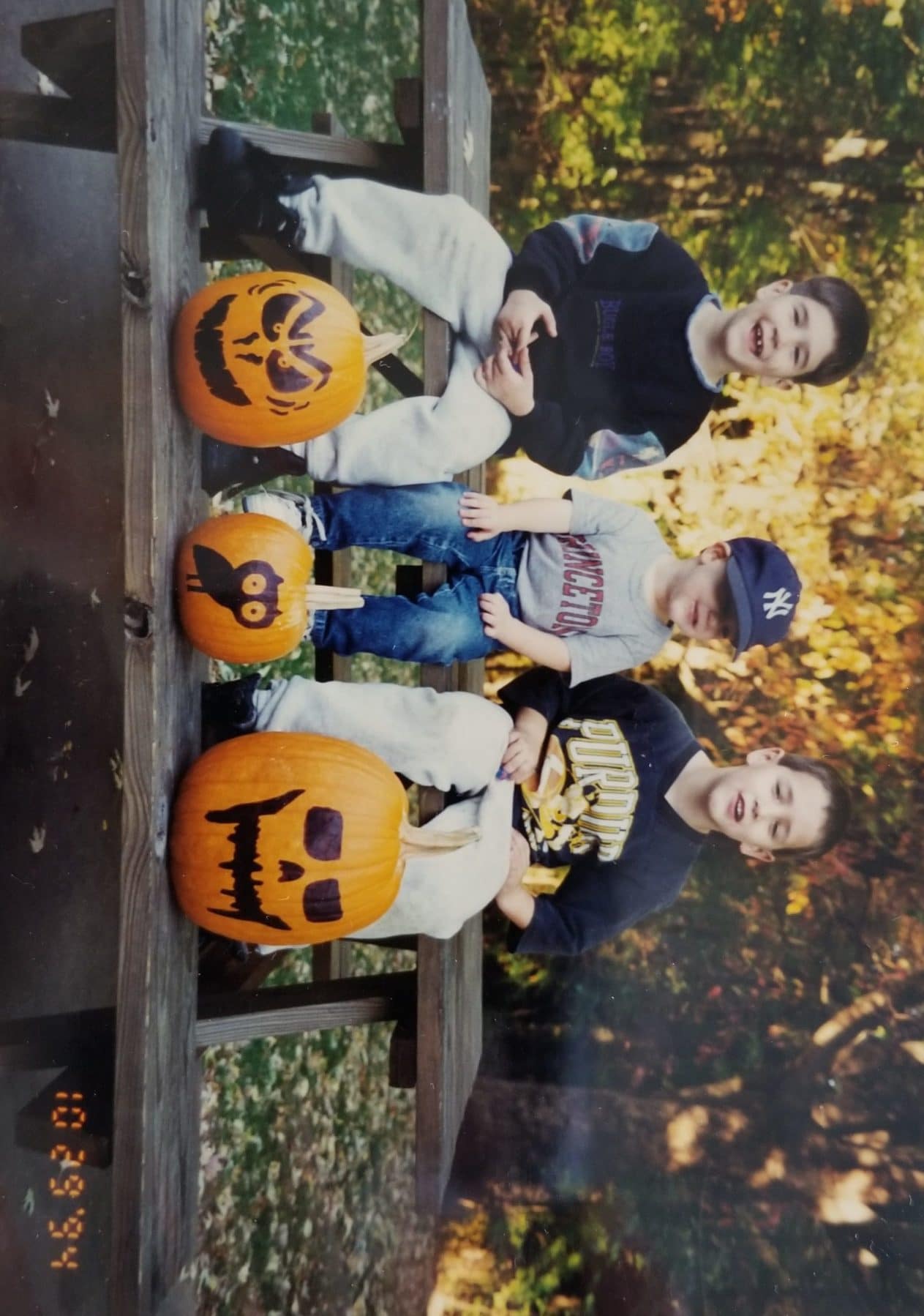 Boo! Happy Halloween!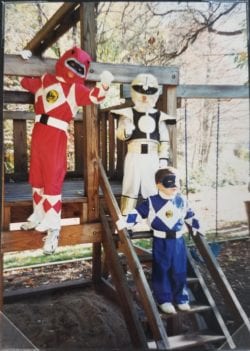 Brad:
Halloween.  Halloween holds some of my most vivid memories from when I was growing up.  It was a chance to try and score lots and lots of candy.  It was a chance to put Mom to work in making our custom costumes like the year I just had to be the white power ranger who had just made his debut in the show and they didn't have a costume yet in the stores.  (Thanks Momma!) ((Editor's note: This episode came out two weeks before Halloween!))  I also remember trick or treating with my cousins and my grandparents, who had some of the most epic costumes out of anybody.  I remember pumpkin carving with my Dad who would always make the most detailed carvings.  And now my brother does the same thing.  AH good times.
Andy:
Favorite candy:  I guess Mentos.  I HATE chocolate, so that basically eliminates the trick-or-treating part of Halloween being a highlight for me.  I'm really not a huge candy person in general.
Favorite Halloween costume:  As a kid, we wore a set of Power Rangers costumes my Mom sewed for us for multiple Halloweens and to just play in around the house.  They were awesome costumes, and my Mom definitely showed some serious craft skills!
Favorite Halloween memory:  The "memories" are a little fuzzy for some reason, but college year Halloween weekends were outstanding.  Plus, Purdue extends the Halloween celebration into more weekends with the Breakfast Club tradition, so it makes you feel like you have Halloween about 7 times every year!

Kenzie:
I am the scrooge of Halloween. It's my least favorite holiday. I think I enjoyed it as a kid, but as an adult I dread it. I normally go with the classic cat ears or something boring like that. However, unlike myself my mom is a huge Halloween fan. She is all about making the house "Spooky". At our old house she used to give away hotdogs and chili to all the trick or treaters. Which to some families became their annual trick or treating dinner spot. One year she gave away over 200 hot dogs.

This year my Halloween will be a little different, I now have a daughter I get to dress up.  Maybe it will help me get out of the Halloween Funk. 🙂
Craig:
My favorite candy is Twizzlers Cherry Bites, no explanation needed as those are amazing.  I don't have a specific favorite Halloween costume but if I had to pick I'd say it would be one of the ones my mom made for us when I was in grade school.  She always went all out with the homemade costumes and I have some vague memories of good times in a Power Rangers outfit and another in a Yankees uniform.  I haven't been a huge fan of Halloween since I was in grade school though.  I dread the process of picking out something to be and then making the costume come together, and I have never been able to justify spending money to buy an already constructed costume.  My favorite Halloween memories come from seeing my Grandma and Grandpa Tenbarge go all out with some really creative costumes and then going trick or treating with them.  I remember one year specifically where my Grandpa was a litter bug and he dressed as a bug with litter glued all over him.  I find that funny and it is right up his alley as he has had a big impact on keeping the westside of Evansville free from litter spending countless hours walking alongside the road picking up trash.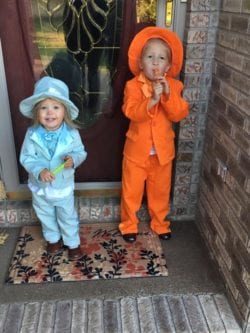 Blake:
Favorite candy- I'm not a huge candy fan but I guess I would say 100 Grand bars.
Favorite Halloween costume- My favorite so far is of my daughters dressed up as Harry and Lloyd from Dumb and Dumber which is one of my favorite movies.

Any pictures you may have of that costume-  My least favorite was me dressed up in a tiger outfit that my mother made me.  It's not that I didn't like the costume, but that I think I had to wear it like 4 straight years until I outgrew it.
Favorite Halloween memory- Making candy trades with my brother and sister after we got home. I was the oldest and always came out ahead with my savvy negotiating skills. Everyone knows one piece of good candy is worth more than five pieces of those terrible peanut butter taffy things!
Zack:
Favorite Halloween Candy – Growing up, I was always on the lookout for caramel apple pops (the ones in green wrappers that could tear up your mouth, not the Jolly Rancher imposters), 100 Grand Bars, and Milk Duds. There was generally a small candy tax when mom and dad "inspected" my candy, but that usually ended up being a couple of Reese's and luckily all of the Almond Joys and Mounds in my bucket.
Favorite Halloween Costume – It's hard to pick out a favorite, so I'll list a couple of the better ones from the last few years: the Gorton's Fisherman, A Guy With Too Much Time On His Hands (Load your wrist full of watches. That's the entire costume), the Brawny Man one night and a lumberjack the next. I was Captain Obvious this year.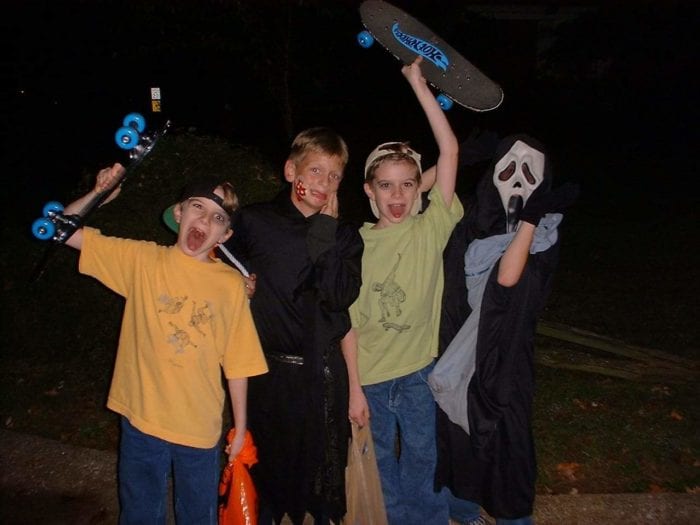 Favorite Halloween Memory – The first stop each year was always at my grandparent's house. They live next door to my parents, so it was a quick trip across the yard to show off the costumes that mom made us and start filling up our pumpkin buckets. Halloweekends in college were always fun, but one of the best nights was Halloween in 2000. That was probably the first time my brother and I got to go trick-or-treating on our own with our friends. We decided to combine Halloween with the best game of all time, Tony Hawk's Pro Skater 2, and went as zombie skateboarders.