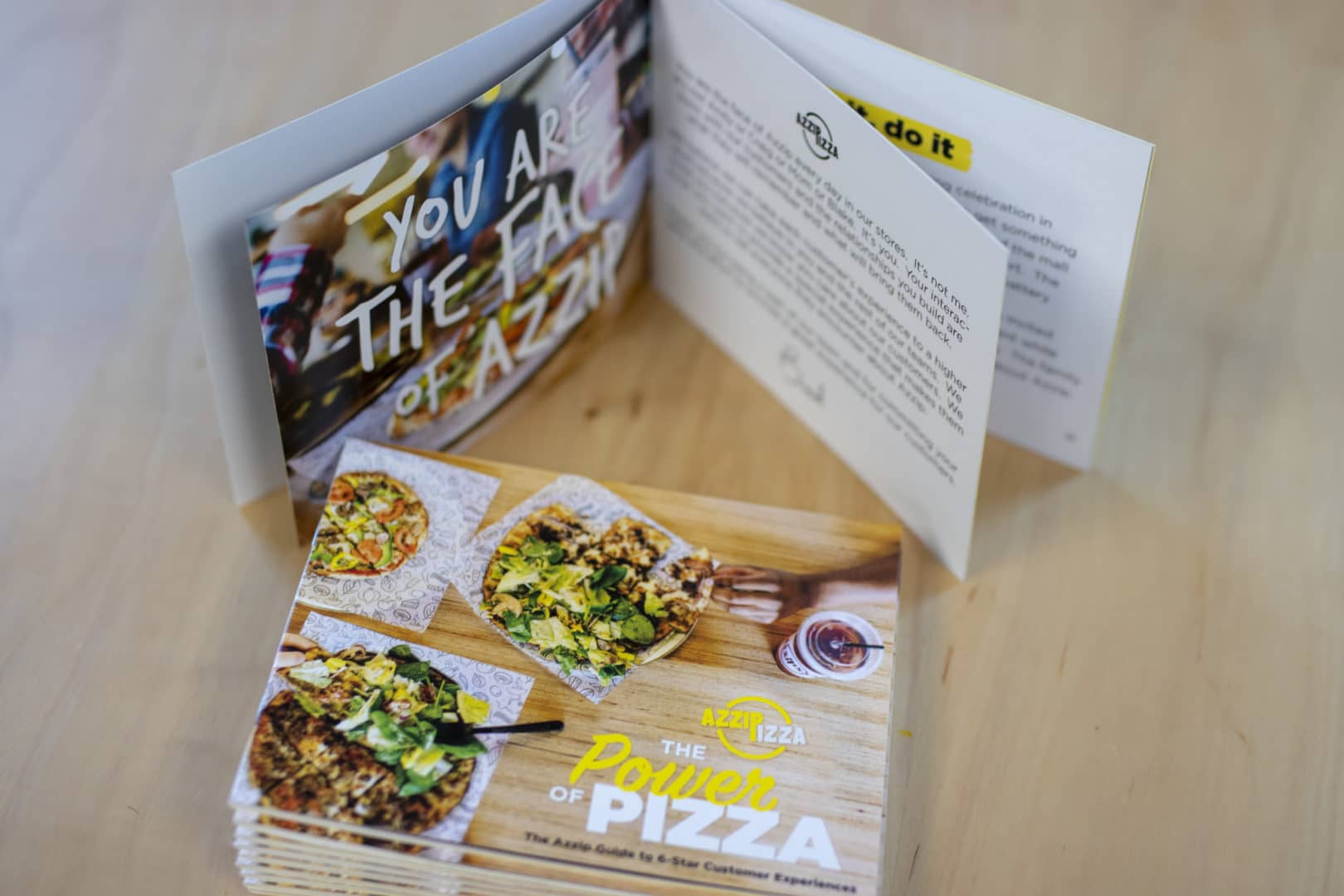 The Power of Pizza
We've always had an idea of what good service is.  It's about being friendly to our customers.  It's getting every order right and always having clean tables in the dining room.  It's fixing and taking responsibility for problems when they arise.  We know that.  It's basic stuff, right?  Business 101.
But is that enough?  We thought so.  We thought we were doing a pretty good job.  Sure we occasionally had feedback come in from customers where we missed the mark.  And we jumped to make sure it didn't happen again.
The Power of Moments
And then, we got sent a video.  And it sparked a change in how we think about customer service.  It was sent to us by Glen, a part-time facilities manager for our northern district and college roommate of my dad (Glen is retired from Eli Lilly and wanted something to keep his skills sharp).  The video was called Build Peaks, Don't Fix Potholes and it was produced in conjunction with a book called The Power of Moments by the Heath brothers, Chip and Dan.
We watched the video and quickly ordered several copies of the book.  We spent some time reading them and all realized how much sense this made to us.  Here's the basic premise: People disproportionately remember the end of an experience and the peak or the valley of the experience.  So to get more memorable experiences in our lives and for our customers, employees or families, you have to create more peak moments that will be remembered or shared.  They give all kinds of great examples throughout the book illustrating this in tons of different ways.
…to get more memorable experiences in our lives and for our customers, employees or families, you have to create more peak moments that will be remembered or shared.
So this all makes a lot of sense to us.  If we want to be able to not just provide a great experience to our customers, but to make memorable experiences that you want to share and remember, we have to intentionally go above and beyond to make that happen.  We still need to do all those things I wrote about in the first paragraph for every customer, but to truly build loyalty from our customers, going above and beyond is the way to achieve it.
Make It Ours
So we brainstormed.  How can we make this way of doing things a part of the experience at Azzip?  Should we just make all our employees or managers read the book?  Can we just give them a copy when they start working at Azzip?  How could we brand the book and the experience to Azzip and make it ours?  All great questions!
And here's what we came up with: The Power of Pizza!  An awfully clever play on the true title of the book, The Power of Moments.  And while we took the basic premise of the book, we made it our own.  We compiled many stories from our customers about ways in which we went above and beyond to make their experience memorable.  We dug through old Facebook reviews and tweets we found by searching "Azzip" on Twitter.  We thought back to word of mouth reviews (Thanks to all you who stop me at Schnucks and tell me what you love about Azzip, it truly makes my day!) and put out a link for our customers to tell us new stories.  We talked to our teams in the stores and asked how they've seen a day made.
Better and more connections with our customers is the goal.
We then distilled these down into some basic principles in which we can teach our teams to make these a part of their everyday shift.  Now I can't tell you all about what these principles are.  But we hope you see them as evidence in future visits.  They are some very simple and easy to understand guides that are meant to be a jumping off point for our teams.  These things won't seem genuine and real to you if our team members are just reading off a script.  What we want them to do is build real relationships with our customers and be on the lookout for ways to make your day.  Better and more connections with our customers is the goal.
One important thing to note in all of this is I'm not going to be the one to pull this off.  None of our home office team is.  The reason we felt that we could do this at all is because we truly believe in our teams in the store.  We have a ton of amazing team members that really do care about you.  They believe in the service and product that we offer to our customers and they are proud of that.  If this is going to work and get integrated into our stores, we need every team member to buy in on that.  And I think they have.
We have now rolled it out in all stores with all of our teams.  We hope to continue to hear many great stories about how our teams are taking this to heart and creating memorable and wonderful experiences for you and your families at Azzip.  We love getting all feedback at Azzippizza.com/feedback.