Our Team: Mark
INTRO
We are extremely fortunate to have Mark Feldkamp as the leader of our Terre Haute team.  Mark was our first employee hired in Terre Haute, and he has been a huge driver of the store's success.  He truly cares about his team and customers, and he has taught us a lot of things over the past year!  We hope you enjoy learning about one of our awesome team members and his passion for animals and the Terre Haute Humane Society.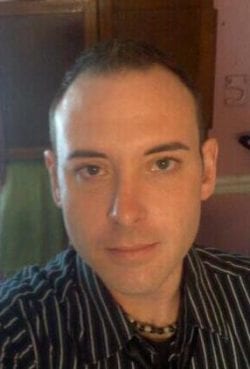 About ME
I call myself the "Oops we did it again baby," because my parents thought they were done having kids after my sister (8 years older) and brother (7 years older).  I have three nieces, the youngest being 7, and a great niece.  After previously living in Ohio, Arkansas, and Illinois, my family moved to Terre Haute in my first year of college in 1996.  After getting my degree (Spanish with minor in History), I moved to Bloomington to pursue other language degrees.  I can speak and write in English and Spanish, I have a good understanding of Italian, and know a little German.  I then moved to Indy in 2002 and started full time management at Chili's in Carmel. After working for Rock Bottom Restaurants, I moved back home to Terre Haute in 2009 to help my dad with my ailing mom.
I have had many pets over the years, and they have all been rescues.  Right now, I have three dogs, Beau, Henry, and Doodle.  I also have a Persian Cat, Jasmine.  My love for animals drives my passion for the Terre Haute Humane Society.  As a no kill shelter, they work to make sure that those animals that are abandoned, forgotten or lost are taken care of in a safe environment.  The ability to help such a selfless organization during not only the season of giving but all year is a huge goal of mine.  To benefit the Terre Haute Humane Society, we will be hosting a Giveback at the Terre Haute store on December 18th, 19th, and 20th.  On those days, customers showing the voucher will have 20% of their purchase donated to the shelter.  As a second source of giving, Azzip will give a $5 coupon for a future visit to customers who donate 5 pounds of pet food.
Working for Azzip
I have always been in the customer service industry and in restaurants I have done everything from dishes to GM. My parents were in management in various industries, and I think they gave me the bug to do it myself. They always have treated their employees like family and were able to create positive environments when doing this.  This is one of my favorite parts about working for Azzip – there is a lot of common sense in this venture.  The Niemeier family makes their GM's feel like friends and family, and we are allowed to do the same with our team members and in turn our guests.
Besides being the GM in Terre Haute,  I am currently working into what I want to do, training and developing.  I wanted to teach for many years but realized I was not cut out for the changes.  In the restaurant industry I have been able to teach, and now I am helping to develop what I teach.  This has led to one of my proudest moments at Azzip, opening new stores in Bloomington and Terre Haute.  Knowing that the staff went from knowing little about the concept and culture to knowing and living it by the end is the most rewarding feeling.
My current goal is to grow in what I am doing and help Azzip continue to grow.  To me success is going to a job that doesn't feel like one.   Money is a tangible item that helps, but at the end of the day I have to love what I do.  This has become especially clear in the last five years as I have learned that balance is the key.  Thankfully, I feel like Azzip provides a balance as a place I would describe as family and home.