Not Just Any Pepperoni


Is Pepperoni your favorite pizza topping? Well you are not alone, because pepperoni is Azzip's most chosen topping. Annually, Azzip customers consume 25,000 pounds of pepperoni per year, as it is found on 45% of all pizzas sold!  And if you are like me, I bet you thought it was originally a sausage from Italy brought over by immigrants. However, it is said to have been invented by Italian Americans around 1930.
Pepperoni is a dry cured sausage similar to the spicy salamis of southern Italy, such as salsiccia Napoletana piccante, a spicy dry sausage from Naples, or the soppressata from Calabria. The main differences are that pepperoni is usually ground finer, typically softer, and is produced with pork and beef mixed together and seasoned with paprika or another chili pepper.
As pepperoni has evolved, two basic styles are prevalent in today's market: the American style and the Traditional style. American style pepperoni was first developed out of concern for how traditional pepperoni baked on top of pizza. This was done to address three major concerns of restaurant owners: cupping, burning and greasing out – all three of which they felt detracted from the appeal of their pizzas. To overcome these baking issues, manufacturers began to develop pepperoni that would not cup or char when put through the baking process. American style pepperoni was born. Because of the uniformity, ease of slicing and great baking characteristics, American style pepperoni has replaced Traditional as the predominant pepperoni used on pizza today.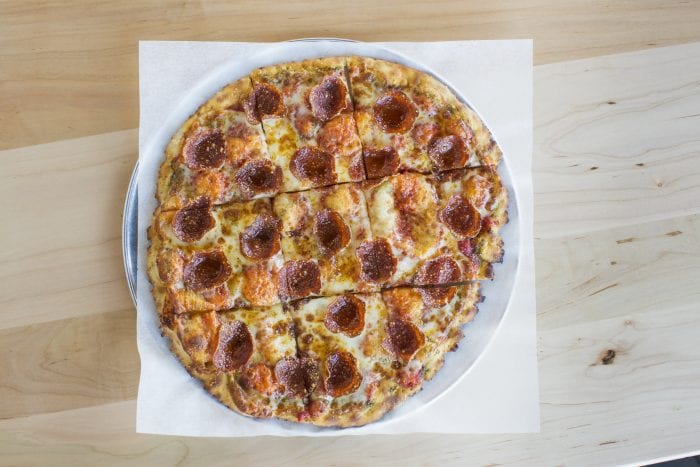 When Brad and I were testing products while developing Azzip Pizza's menu, we tasted over 20 different pepperoni products and there was one that stood out above all the rest, I don't think we even debated it. Even when we were told this was the most expensive of the options we didn't care, the pepperoni was worth it for its flavor and texture! It turns out this pepperoni was called Old World Style from EZZO Sausage Company and it was a traditional style pepperoni having curl and crisp but without the natural casing making it easier to slice. In addition to being delicious we later found out that EZZO is a small family business just like Azzip making us even prouder to feature their product.
Ezzo Sausage Company was founded in Columbus, Ohio by John Ezzo in 1978, however members of his family have been making sausage in America since 1906. His sons Bill and Scott joined to help grow the company through sales and production. After a short time in sales Bill was inundated with requests to make pepperoni, which Scott through tireless effort and years of refinement made the pepperoni they manufacture today. Orders continued to pour in and the two brothers expanded to the point of adding fermentation ovens and large drying rooms. In 2001 Ezzo Sausage expanded into its second building dedicated to slicing their growing product line.  For the past 15 years Ezzo Sausage has been at capacity, unable to take any new business.  However, in 2015 they expanded once more when Bill purchased a previously USDA Inspected building on the west side of Columbus, Ohio.  Today Bill Ezzo and his family including sons Darren and Jonathan, continue the proud legacy started by John.  I talked with Darren about what makes Ezzo so special.
What makes EZZO Pepperoni different?
Darren: Our Pepperoni is different because where most companies are in constant pursuit of cutting cost we find ways to bring better quality to our products. Where most people would use trimmings and pink slime (FTP finely textured pork & FTB finely textured beef) We use whole Pork shoulders (Boston butts), wholesome beef fat and real ground seasonings instead of the cheaper liquid flavorings. Anybody can tell our products from the rest by the aroma and the flavor that you can only get from using the highest quality materials. You get out what you put in. **(Another bonus for us at Azzip is that the pepperoni is nitrate and nitrite free)**
Talk about the production that it takes to make your pepperoni.
Darren: We do only small batch production, so this means we don't pump meat through pipes, we use small tubs to handle the product and are very careful to not over-handle it and make sure we use sharp knives to prevent breaking down the proteins. This is the difference between locking in the flavor and having it grease out all over your pizza.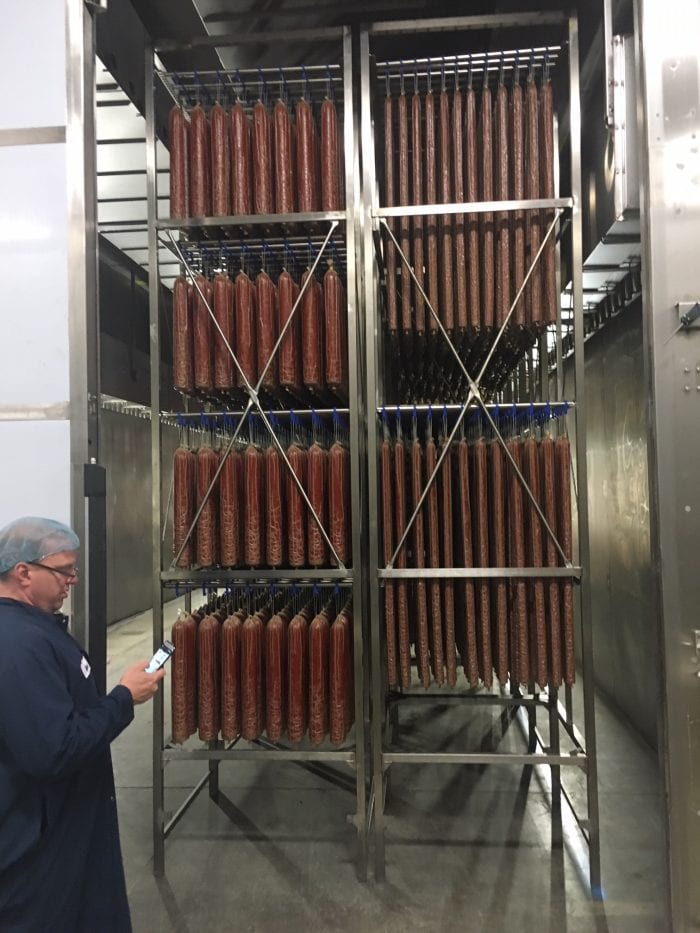 How much pepperoni do you make during a typical week?
Darren: We're doing about 120,000 lbs. a week but that number is rising every day.
Anything else we would find interesting?
Darren: Pepperoni has only been made as far as we know since the 70's. Before pepperoni was pepperoni we made SFP – Sausage for Pizza, it was a smoked paprika spicy sausage, cooked, chilled then sliced. People we're drying it before us, but we are about the only ones that are still making anything close to what it once was before the word Pepperoni became synonymous with Commodity. We were also the first to preslice the pepperoni for our customers.