The Start-Up
How did you come up with the idea for Azzip?
I get this question a lot.  Whether I am in one of the stores or out at an event, people are always very interested in where the idea came from.  Did it just pop in my head like a light bulb going off?  Was it a slow build of one idea leading to another leading to another?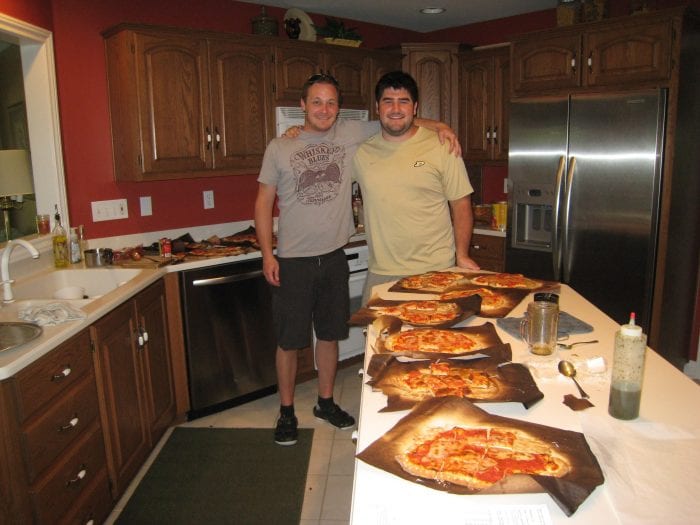 So here's the lowdown on how this crazy ride started.  I was a student in Hospitality and Tourism Management at Purdue.  I was a walk on for the football team.  I was a student in the Entrepreneurship program.  I was of a mindset at this point in my life that I wanted to start my own business (wanted it to be a restaurant) & I knew it had to be something creative and different.  At the time, I would have pizza nights for my teammates on the football team.  Everyone would throw in $5 for ingredients and I would make a bunch of pizzas up.  It was gratifying to me getting to see people enjoying something that I created.
So pizza it was.  Now how was I going to make it different.  Pizza has been a mainstay in the restaurant industry for years so how could I set my company a part.  Originally it was a food truck.  Then a sit down restaurant.  But what kind of places was I frequenting most often?  That's what I asked myself.  And we went to Chipotle A LOT.  I enjoyed being apart of the process and seeing it made right in front of me.  I thought, why couldn't we do this for pizza?  And there it was.  That was my idea.
I then took the idea to my parents, a professor at Purdue named Mike Cassidy, and a chef friend, Blake Kollker.  I sought feedback on the idea.  Could this work?  Positive feedback.  Also a name.  I wanted something different and unique.  Not "Brad's Pizza".  A made up word.  Mom said what about pizza backwards, "Ay-Zap" is how she pronounced it the first time.  "Ay-Zip" I said back.  I loved it.
Mom said what about pizza backwards, "Ay-Zap" is how she pronounced it the first time.  "Ay-Zip" I said back.  I loved it.
The idea for Azzip came from a passion that I was following.  Not because I thought this was going to be an easy job or a great paying career.  I was legitimately passionate about pizza.  I would spend hours on pizza blogs reading recipes and seeing what other people were doing.  I would research different ingredients and specialty pizzas and where I could find them near me.  I would take hours out of my day to prep for a pizza party that I only got partially covered by everyone throwing in some cash (football players are big eaters).  Its hard to explain, but deep down I knew this could work.
Mike Cassidy encourage me to enter this idea into the Burton D. Morgan Business Plan Competition at Purdue.  I signed up.  The first round was a executive summary (2 Page paper outlining overall concept).  I got an email reminder to submit my summary the night before it was due.  Oops.  I quickly threw all the ideas in my head down on paper and got it turned in.  Thankfully somebody was intrigued and I made it through to the next round.  I ended up winning the competition and won $20,000 towards starting my business.  The judges loved my passion and knew that I was willing to put in the work to make this idea a reality.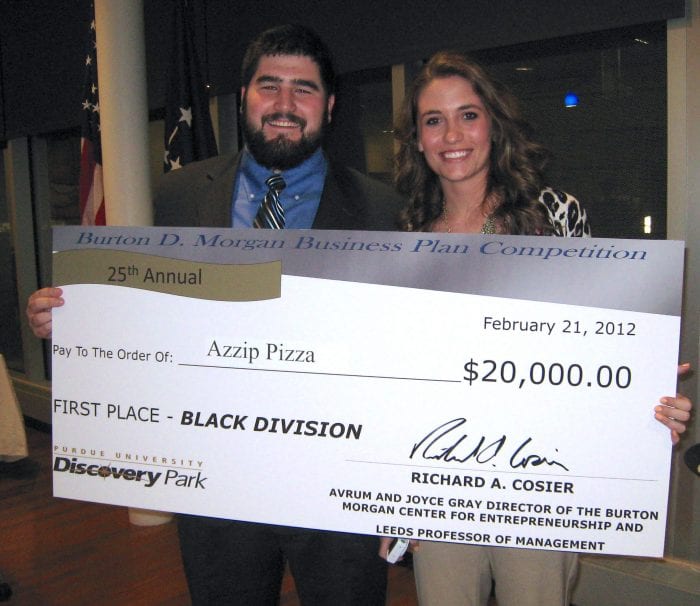 My then girlfriend, now wife and baby mama, encouraged me when I was having doubts.  "If your dreams don't scare you, they're not big enough" was a quote she found on the internet and shared with me.  It struck a cord.  I was in a place in my life where I could afford to take a chance on an idea.
The rest of the history of Azzip is still happening.  Still being written.  But I am proud of what were accomplishing in our short time of being a business.  We're participating in the local communities in which we operate.  We're providing our 130+ employees with a fun job and a good wage.  And my family and I are having fun working together.  I am glad I followed my dreams and we gave this thing a go.